HD Trading and its products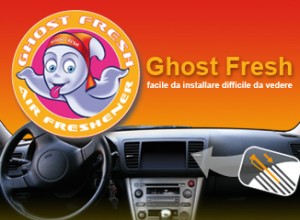 Established in 2006, the young and dynamic HD Trading company immediately made a name for themselves in the car accessories market with a new fragrance dispenser. The company's brainchild was Ghost Fresh, a pioneering air freshener that was to turn the spotlight on a unique new principle: it differs from the rest by being "invisible", not dripping and not swinging about. The innovative and practical stick fully exploits air coming out of the dash vents, changing the way we freshen the air in our cars.
HD Trading have always had every confidence in this product and the figures have shown, and indeed continue to show that their confidence was not misplaced. This success can be attributed both to the value of the product and to promotional measures that have boosted the brand with significant advertising and sponsorship initiatives, both through traditional channels and through sport, especially motor racing.
HD Trading approaches the world of car accessories with a combination of creativity and practicality, striving every time to offer new alternatives to existing products. And should the market need new stimulus…. there's always Jungle Party, the new patented series of car fragrance dispensers. A series of new, fun air fresheners, this time very much a visible feature in the car, designed for both women and men. Ladybirds, bees, lizards, frogs, four-leaf clovers, daisies, sunflowers and the must-have love heart: eight charming designs matched with as many scents, carefully chosen from amongst the most popular options best suited to fragrancing car interiors.
Underlining HD Trading's desire to cater to the driver's every need, the company also distribute another product: not a fragrance dispenser this time, but a very useful device known as the Pit Stop digital breathalyzer. This has proved to be a top seller: it has taken the market by storm, bolstered by its accuracy in measuring alcohol content and by its correct quality/price ratio. Its attractive look and practical use make this an increasingly essential item that no service station shop should be without.